Assessment Services
The AppState Psychology Clinic is offering in-person assessments and some in-person therapy. We are also able to offer therapy via telehealth. See Telehealth or contact us for more information.
Per COVID regulations, we follow the university guidelines & requirements, see https://www.appstate.edu/go/coronavirus/ for more information. We do not require face coverings, but you are welcome to wear them if needed. Optional protective barriers and precautions for testing rooms (e.g., plexiglass) can also be provided if needed.
The ASU Psychology Clinic offers comprehensive psychological assessment services for children, adolescents, and adults with a variety of psychological concerns, including:
ADHD
Learning disabilities
Intellectual abilities
Academic skills and achievement testing
Cognitive impairment
Personality assessment
Psychosocial assessment
Memory testing
Psychoeducational testing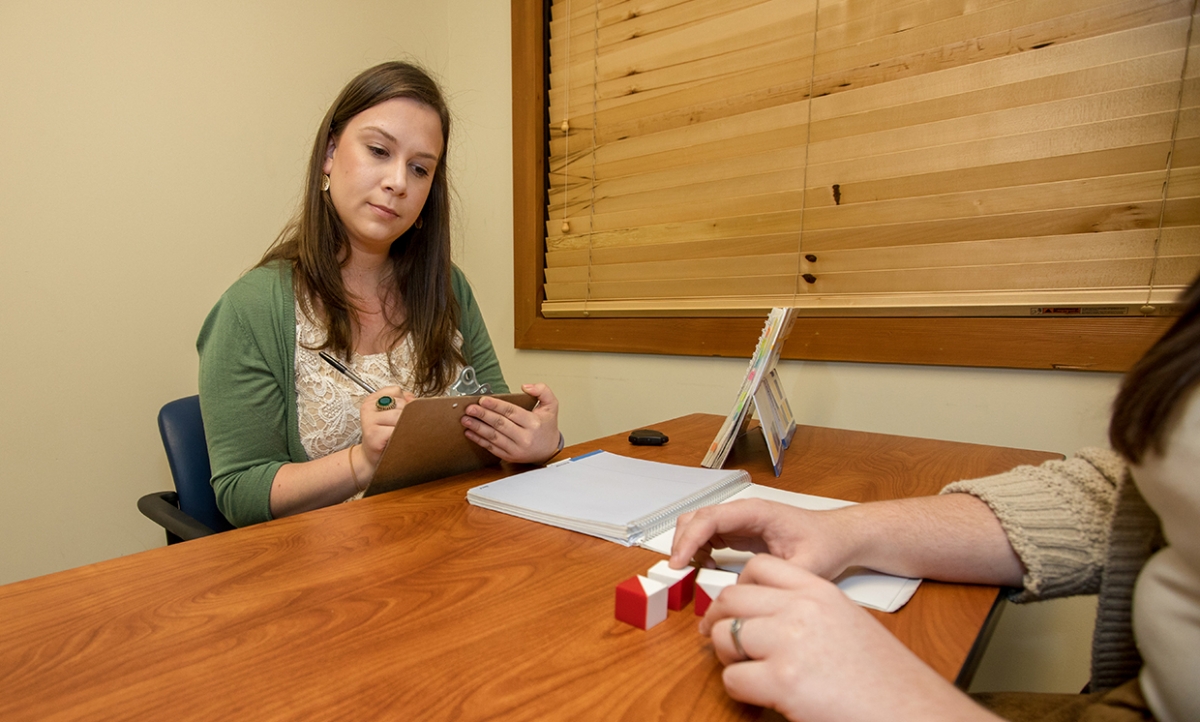 Process to Receive an Evaluation
Call the ASU Psychology Clinic to conduct a phone screening. This takes approximately 20-minutes, and requires you to give a clinician or staff member background information into your concerns prior to scheduling your first appointment. If you are younger than 18 years of age, your parent or guardian must call for you. If you are 18 years old or older, only you can call the Clinic.
After your phone screening, you will likely be put on our notification list. The duration of this list varies in length, as we have a limited number of clinicians providing services to a large number of community members. A clinician will call you as soon as they are available, but you are welcome to call (828-262-6639) or e-mail (asupsychclinic@appstate.edu) the Clinic should you have any questions about where you stand.
You will be contacted as soon as there is a clinician with an opening in their schedule to see you Your first appointment will consist of an intake interview. This appointment is typically one-two hours long.
Your clinician will work with you to schedule subsequent assessment appointments. These can vary from 1-3 hours per session, and can be over a number of days. Most evaluation appointments require the completion of various types of testing. You can expect approximately 3-5 different appointments.
Once your last session has ended, your clinician will then begin to interpret the findings of your evaluation in the form of writing a report. When the report is ready (~ 4 weeks), you will then schedule a formal feedback session. During the feedback, your clinician will review the test results, discuss the implications of the findings, and provide specific recommendations to address your needs. In addition, you are provided with a copy of the report detailing the results of the evaluation. The Appalachian State University Psychology Clinic is also willing to work with health care providers and/or teachers/schools to ensure that appropriate services are given to maximize physical, psychological, and social well-being.
Assessments for Autism
The ASU Psychology Clinic is also separately able to provide assessments for autism spectrum disorder (ASD) through the BCBSNC Institute for Health and Human Services (IHHS), as part of a collaborative partnership of local providers. If you would like to learn more or initiate an assessment for ASD, you can call IHHS at 828-262-2185 and find more information about the Interdisciplinary Autism Collaborative Training Program (InterACT) and the Interprofessional Clinic. Please note that currently services are paused (temporarily, given the Covid-19 pandemic) but families are always able to call and be added to a waitlist.
While we can offer assessment of autism (through the aforementioned collaborative) and intellectual disability, we are currently unable to offer therapy services addressing specifically autism or intellectual disability. However, the mission of our team remains to provide family centered, solution-focused and evidence-based interventions for children and families.